HPC SPONSORS THE VENTURA AUDUBON SOCIETY'S ORMOND BEACH NESTING PROJECT
HPC is so happy to sponsor
The Ormond Beach Stewardship: Fencing and Signage Make-Over Project
Helping conserve our Coastline and threatened species is a project close to our hearts. So to be a part of this important project is super exciting for all of us at HPC!
We will keep you posted on how things are going but in the meantime here is a bit of an introduction about this project and the important work that the Ventura Audubon Society (VAS) is doing for the community.
Introduction
The Ventura Audubon Society (VAS) project provides critical protection for the Federally threatened western snowy plover and the endangered California least tern, while at the same time enabling public access and understanding of these rare birds.
Background
The vision of the Ventura Audubon Society (VAS) is to protect our native bird populations, facilitate recovery of declining populations, and restore the wildlife habitat of Ventura County for the benefit of humanity, the earth's biodiversity, and future generations.
Ormond Beach is uniquely located at the interface of the urban/residential community of Port Hueneme and a globally important bird area (IBA) at Pt Mugu Navy Base.  IBA's are a critical link in global migration routes, and Ormond Beach is home to over 200 species of migratory birds and 25 species of special concern.  It is one of the last remaining beaches in Southern California that contains an intact dune–marsh transition zone. Ormond Beach is also important to humans.  Many visitors come to Ormond Beach to bird watch, and others to walk the two-mile stretch of shoreline. Educators make Ormond Beach the destination for educational field trips.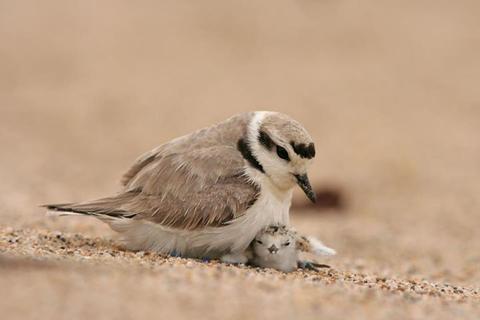 Problem Statement
VAS has installed protective habitat fencing with signage for the last 10 years, but now after many years in the beach environment the fencing has deteriorated, and there has been significant vandalism. In spring 2019, the Ormond Beach nesting sites were greatly compromised by unlawful human activity. A large squatter community established an encampment adjacent to the nesting areas, tampered with signs, removed and repurposed fencing, stole expensive monitoring equipment, and vandalized protective cages that kept predators from destroying nests.  In the fall of 2019, the Port Hueneme Police Department and the Oxnard Police Department removed those encampments but thousands of dollars of damage was done in just six months and left the area an eyesore.
In addition, both the cities of Port Hueneme and Oxnard prohibit dogs on beaches in this location, but the city ordinances are not enforced and it is common to see both leashed and unleashed dogs on both Hueneme and Ormond Beach. Fence destruction has left nesting areas open and vulnerable, and many Hueneme residents do not understand the danger dogs pose to snowy plovers, which blend in the sand and are easy to miss by the untrained eye.
Larger Impact
The Ormond Beach wetlands are considered the jewel of Ventura County but are in great need of a make-over before the next nesting season, which officially begins March 1st when human activity will be restricted. The addition of educational and legal signs will help communicate rules to visitors, while also facilitating a learning experience and a deeper appreciation for the wildlife that depends on Ormond Beach. A make-over will not only make the wetlands more visually appealing thereby garnering more public attention and interest in the entire area, but it will also support the VAS's mission to protect the endangered birds.
Sustainability
The maintenance of the signs and fencing will be done by VAS. Nesting outcomes will be monitored throughout the summer by VAS to determine exactly how many nests are protected by the fencing.  VAS will also monitor the fences for vandalism.
Conclusion
The Ormond Beach wetlands are a veritable treasure chest of animal and plant life.  An ever-expanding sector of the tourism industry is ecotourism.  A make-over of Ormond Beach will enhance the image of our nearby wetlands and potentially attract visitors interested in experiencing this unique destination positioned between the two cities of Port Hueneme and Oxnard.
For more information about VAS please click here.