HPC SUPPORTS WILDERNESS YOUTH PROJECT IN SANTA BARBARA
At HPC, we love to find great organizations to support that really resonate with our fundamental mission…to help people.
We heard about the Wilderness Youth Project in Santa Barbara and were immediately intrigued. What we liked about them, besides how they help kids cope with daily stresses or teach them about nature, is they felt that our organizations probably had a lot in common, including natural ways to increase health and happiness.
We were happy to donate towards their Bridge to Nature Program which is their central program and the one that "builds a bridge" to the kids most in need especially now during the Covid-19 Pandemic.
Everyone knows that time in nature is good, and why it is absolutely essential, for health, wellness, and learning, for young people to spend time outdoors. And, tragically, low-income and other marginalized youth are the ones least likely to have the benefit of nature connection.
If you would like to learn more about this great program or donate, please check out the Wilderness Youth Project website at WYP.org.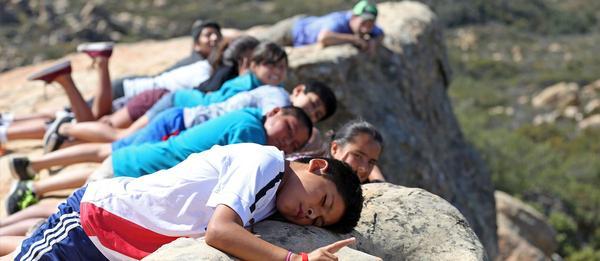 About The Wilderness Youth Project:
MISSION
The mission of the Wilderness Youth Project (WYP) is to foster confidence, health, and a life-long love of learning for young people and families through active outdoor experiences and mentoring.
VISION
WYP envisions teaching the next generation to be peaceful, respectful, and confident stewards of our world. 
WHAT THEY DO
We take our participants to resource-rich locations such as the creeks, beaches, mountain trails, and open spaces in Santa Barbara's abundant front country. Our core routines include child-centered exploration, awareness, and the building of naturalist skills. We use a nature-based mentoring curriculum that combines experience in nature with a hands-on learning process. We also teach the "Principles of Peace," which focus on conflict resolution, communication and peacemaking. The improved outcomes we have tracked for our participants include individual growth and self-assurance, interpersonal skills, physical competence, and increased respect for the natural world.
Our four-to-one youth-to-counselor ratio affords participants a high quality of mentoring typically unavailable in youth services. This low ratio along with the flexible nature of our programs allows for individualized attention. Through the course of a season children grow in agility, self-awareness, and social awareness. We operate with a long-term mentoring model and most of our participants return for multiple years. Wilderness Youth Project (WYP) promotes meaningful social change through an innovative, nature-based curriculum and mentoring program. Our programs return children to the traditions of childhood: outdoor time, child-centered exploration, skill/self-esteem development and connection with the natural world.
WHY IT WORKS
Nature education during childhood has a potent impact on shaping both environmental attitudes and behaviors in adulthood. Nature stimulates powers of observation, creativity, and a sense of peace. Research shows that spending time in nature dramatically reduces children's propensity for violence, stress, and symptoms of ADD/ADHD.
All photos courtesy of the Wilderness Youth Project