HPC NAMED ONE OF TOP 2021 BEST CANNABIS COMPANIES TO WORK FOR BY CANNABIS DISPENSARY MAGAZINE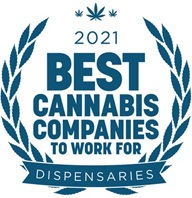 Cleveland,OH, (February 10, 2021) — Cannabis Dispensary magazine (Cannabis Dispensary) announced today that HPC PORT HUENEME was selected as a 2021 Best Cannabis Companies To Work For – Dispensaries. Profiles of the dispensaries that earned the distinction as one of the Best Cannabis Companies to Work For are available online at CannabisDispensarymag.com.
The award program recognizes and honors the best companies across the cannabis industry that excel in creating quality workplaces for employees.
"It is more important than ever to recognize companies that support their teams and are dedicated to best business practices for themselves, their customers, and their employees," said Noelle Skodzinski, editorial director of CannabisDispensary, the leading magazine dedicated to serving retail business segments of the legal cannabis market. "The companies named to this year's lists are creating cultures that encourage collaboration and camaraderie, and we are pleased to bring their stories to light."
HPC is honored and incredibly excited to be included on this nationwide list. This year we were #4 next year #1!!